Description
Black Cumin Seed Carrier Oil is cold pressed from the seeds of the Fennel Flower.
Traditionally, Black Cumin Seed Oil has been used for its stimulating, warming, and tonic properties as well as for its harmonizing effect on the mood.
Used topically, Black Cumin Seed Carrier Oil is reputed to hydrate, soothe, smooth, and nourish the skin, to address fungal infections and blemishes, and to promote the skin's reparation and regeneration, thus facilitating a smoother, clearer, and brighter complexion. It is known to exhibit the same effects when applied to hair.
Used medicinally, Black Cumin Seed Carrier Oil eliminates harmful topical bacteria, stimulates a strong immune response, facilitates skin's healing process, and eases muscular aches and joint pain.
When diffused, Black Cumin Seed Carrier Oil enhances and supports the health of the respiratory and digestive systems.
---
Black Cumin Seed Carrier Oil is reputed to have many therapeutic properties. The following highlights its many benefits and the kinds of activity it is believed to show:
COSMETIC: Anti-Oxidant, Hydrating, Aromatic, Deodorant, Stimulant.
MEDICINAL: Analgesic, Anti-bacterial, Anti-Inflammatory, Anti-Fungal, Diuretic, Anti-spasmodic, Anti-viral, Bronchodilator, Hepato-Protective, Hypotensive, Galactagogue, Emmenagogue, Reno-Protective, Immune-Enhancer, Metabolism-Booster, Anti-Histamine, Anti-Coagulant, Thermogenic, Carminative, Appetizing, Digestive, Sudorific, Febrifuge, Stimulant, Expectorant.
BLACK CUMIN SEED OIL BENEFITS
The main chemical constituents of Black Cumin Seed Carrier Oil are Palmitic Acid, Stearic Acid, Oleic Acid, and Linoleic Acid.
PALMITIC ACID is known to:
Have emollient properties
Soften hair without leaving a greasy or sticky residue
Be the most common saturated fatty acid
STEARIC ACID is known to:
Have cleansing properties that eliminate dirt, sweat, and excess sebum from hair and skin
Be an ideal emulsifying agent that binds water and oil
Help products remain potent when stored for long periods of time
Condition and protect hair from damage without diminishing luster or making it feel heavy
Have exceptional cleansing properties
Soften skin
OLEIC ACIDS (OMEGA-9) are known to:
Maintain the softness, suppleness, and radiance of skin and hair
Stimulate the growth of thicker, longer, and stronger hair
Reduce the appearance of aging, such as premature wrinkles and fine lines
Eliminate dandruff and support hair growth
Boost immunity
Exhibit antioxidant properties
Prevent joint inflammation, stiffness, and pain
LINOLEIC ACIDS (OMEGA-6) are known to:
Moisturize hair and promote its growth
Facilitate wound healing
Be an effective emulsifier in the formulation of soaps and quick-drying oils
Exhibit anti-inflammatory properties
Soothe acne and reduce chances of future outbreaks
Promote moisture retention in skin and hair
Make oils feel thinner in consistency when used in an oil blend, thus being beneficial for use on acne-prone skin
Help slow the look of aging by sustaining skin elasticity and softness
Used cosmetically or topically in general, Black Cumin Seed Oil is reputed to effectively address fungal infections, yeast, and mold with its anti-fungal properties. Its antioxidant activity is known to promote the skin's elimination of harmful free radicals, thus diminishing the appearance of wrinkles, fine lines, dark spots, and other blemishes, thereby exhibiting a rejuvenating and revitalizing effects.
Rich in vitamins, minerals, and fatty acids, Black Cumin Seed Oil delivers gentle yet profoundly nourishing moisture that is easily absorbed into the skin, leaving it feeling smooth, hydrated, and nourished with a radiant look. Its softening quality makes it beneficial for even the most sensitive skin and its firming and regenerative properties are known to lessen the chance of scars developing from wounds. When applied to hair, Black Cumin Seed Oil is known to exhibit the same supportive effects, thus promoting the growth of stronger and smoother strands.
Used medicinally, Black Cumin Seed Oil works as an antiseptic and anti-bacterial agent that eliminates harmful topical bacteria while preventing their future growth, thus proving to stimulate a strong immune response. With anti-inflammatory and soothing properties, it soothes skin and facilitates its healing process to effectively address conditions such as eczema and psoriasis. Its analgesic properties make it ideal for reducing the discomforts of rheumatism.
Black Cumin Seed Oil can also be diffused in a vaporizer and, when diffused, it is reputed to enhance and support the health of the respiratory system. It is believed to have the potency to alleviate symptoms of asthma and bronchitis. Due to its carminative property, which enhances digestion and reduces discomforts such as stomach pain, bloating, and gas, it is believed to ease gastrointestinal disorders.
HISTORY OF BLACK CUMIN SEED OIL USAGE
Black Cumin Seed Carrier Oil is derived from the seeds of the Nigella sativa botanical, better known as the Fennel Flower. It is also commonly known by various other names, including Black Oil, Baraka, Fitch Oil, Kalajira Oil, Kalonji Oil, and Love in a Mist, to name only a few.
For more than 3000 years, Cumin seeds and the oil that they yield have both been used in cosmetic, medicinal, and culinary applications. They were applied as herbal remedies, condiments, and treatments for aches and topical irritations, including bites, sores, inflammation, and rashes. According to historical sources, it is believed that Black Cumin Seed Oil was first used by the Assyrians of ancient Egypt, where it came to be used by renowned royal figures, such as Cleopatra and Nefertiti, who used it in their skincare routines, beautifying baths, and medicinal applications.
In India and the Middle East, Black Cumin seeds – which have a bitter and pungent flavor that can be likened to a blend of black pepper, onions, and oregano – have been dry-roasted and used as a spice and flavor agent in vegetables, pulses, bread, curries, and string cheese. In Ayurveda, Black Cumin Seed Oil has been used in a wide range of applications, mainly for its stimulating, warming, and tonic properties as well as for its uplifting effect on the mood. Traditionally, it was used to address health conditions such as anorexia, sexually-transmitted diseases, and gynecological ailments. It was also believed to be beneficial for stimulating the appetite and metabolism, easing neurological disorders, positively enhancing negative temperaments, and promoting harmony within the body and mind.
According to historical records of Greek physicians in the 1st century, they used Black Cumin Seeds to address toothaches, headaches, nasal congestion, and intestinal worms. Due to the strengthening property of Black Cumin Seed Oil, physicians like Hippocrates prescribed it to patients who experienced general illness and feebleness. Other ancient Greeks used it to stimulate the onset of menstruation and to increase milk production in women. In 'The Book of Healing,' author and physician Ibn Sina, also known as Avicenna, accredited Black Cumin Seed with healing abilities, commending it for its invigorating, stimulating, and preventative properties. The book speaks of the seeds as agents for boosting energy and alleviating weakness, exhaustion, sadness, and feelings of discouragement. Furthermore, he endorsed the therapeutic application of Black Cumin seeds for addressing and soothing symptoms of common colds, fever, headaches, topical irritations, wounds, skin disorders, toothaches, and intestinal worms and parasites.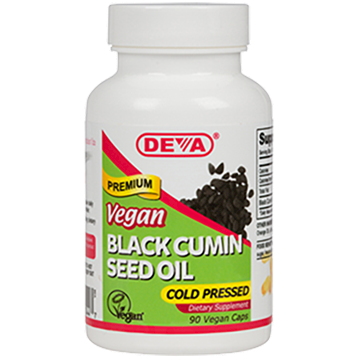 The Black Cumin Seed Oil used in this product is unrefined cold-pressed
Serving Size:

1 Vegetable Capsule

Servings Per Container:

90

Amount Per Serving

Calories

5

Calories from Fat

5

Total Fat

0.5

 

g

Black Cumin Seed Oil

500

 

mg

Other ingredients:
Vegan Capsule (Cellulose), Silica, Organic Orange Oil, (All from non-animal sources)
Wheat Free
Dairy/ Milk Free
Gluten Free
Vegetarian
Soy Free
Yeast Free
Starch Free
Salt Free
Vegan
Free of Artificial Colors/Flavors
Egg Free
Shellfish Free

Directions: For adults take one (1) vegan capsule daily with a meal or as directed by your health care provider.

Food Sensitivity: Free of yeast, soy, wheat, gluten, starch, salt, sugar, hexane, dairy, egg, fish, artificial color.

This product does NOT contain animal products, derivatives or byproducts. 100% VEGETARIAN, VEGAN. This product is registered with the Vegan Society.

Warning: Always consult your doctor before taking dietary supplements.

STORE IN A COOL, DRY PLACE. TAMPER EVIDENT: DO NOT USE IF IMPRINTED SEAL UNDER CAP IS BROKEN. KEEP OUT OF REACH OF CHILDREN.